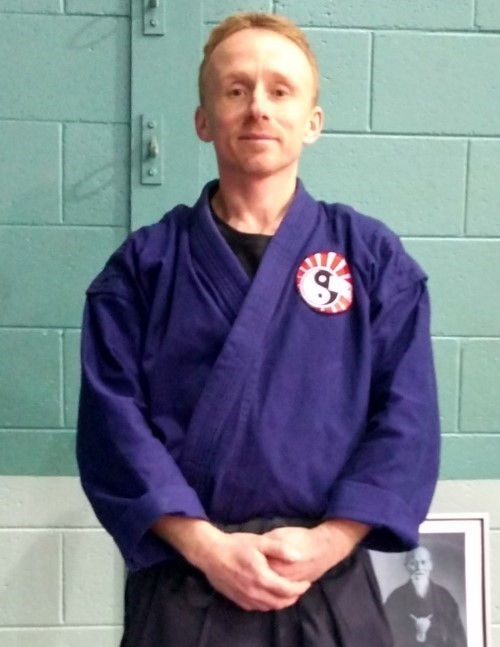 ad is the founder of Penguin Budo located in the town of Penguin, Tasmania.
Having fallen in love with the town Penguin, Brad was highly driven to create a true community-focused budo (martial arts) school when he arrived from Perth, WA more than 5 years ago.
Having significant roots in Yoseikan Budo, Brad teaches and trains Gyokushin Ryu Aikido whereby his goal is to bring more than just martial arts training to Penguin.
In 2016, Brad obtained his Shodan at a small Yoseikan dojo in the northern suburbs of Perth, Western Australia. In 2018 he was awarded his Nidan, coupled with his Sandan teaching certification from Washizu Terumi Kancho at the Gyokushin Ryu Aikido Hombu dojo in Japan.
Having continued his training under Sensei Marshall, Sensei Atkas and Sensei Niland gives Brad a great blend of traditional martial arts and self-defence skills. Furthermore, Brad has an extensive background in coaching a variety of sports at both junior and senior levels helping him deliver a unique martial arts class that is enjoyable for students of all ages and levels.
Accreditation:
Nidan (International Guokushin Ryu Aikido Federation) 
Kyodo (Teaching Certificate) (International Guokushin Ryu Aikido Federation) 
Nidan (Yuishinkai Aikido International) 
Shodan –  recognised by OMMA Perth
Shodan (Yoseikan Aikido) 
Certified MAA Accredited Coach 2020 (Martial Arts Australia)
Jade began training in martial arts in 1998. Throughout his time Jade has studied various art forms ranging from freestyle martial arts to Aikido. His 23 years of teaching and training in freestyle martial arts (karate, boxing, taekwondo, kickboxing, jiu-jitsu, eskrima and BJJ) saw him train a blend of the most practical elements derived from numerous martial art styles that primarily focused on the street application where he was awarded 3rd Dan Black Belt in 2016.  
Since 2011 Jade has devoted his spare time to studying the art of Aikido wherein 2019 he completed a rigorous 24-hour grading being awarded Shodan under Sete Tele Sensei (7th Dan) and Peter Kelly Sensei (10th Dan) in Perth, Western Australia. 
Jade is highly passionate about exploring the depths of aikido. He leads a life that is underpinned by a core set of values wherein he strives to not only better his martial arts training and studies but more profoundly learn, grow and evolve as a person.   
Accreditation:
3rd Dan Freestyle Martial Arts (Wilkes Martial Arts Academy)
Nidan (Yuishinkai Aikido International) 
Shodan – recognised by OMMA Perth
1st Dan Muay Thai Kickboxing (World Kickboxing Association)
1st Dan Karate (World Karate Association)
Blue Belt Eskrima (Wilkes Martial Arts Academy)
Certificate IV in Fitness (Personal instructor and group trainer)
Certificate IV Training & Assessment
Living Longer Living Stronger (LLLS) Certification
Registered WKA Instructor 2017 (World Kickboxing Association)
Certified MAA Accredited Coach 2020 (Martial Arts Australia)